Portable Concrete Pump for Sale
There are different types of concrete pumps according to different classification methods. In the piston concrete pumps, it is divided into mechanical piston pumps and hydraulic piston pumps. At present, most of them are hydraulic piston pumps.
The hydraulic piston pump can be divided into water pushing type and oil pressure type according to the different medium that pushes the piston, most of which are oil pressure type. According to the driving method, there are piston type and squeeze type. Currently most of them are piston type.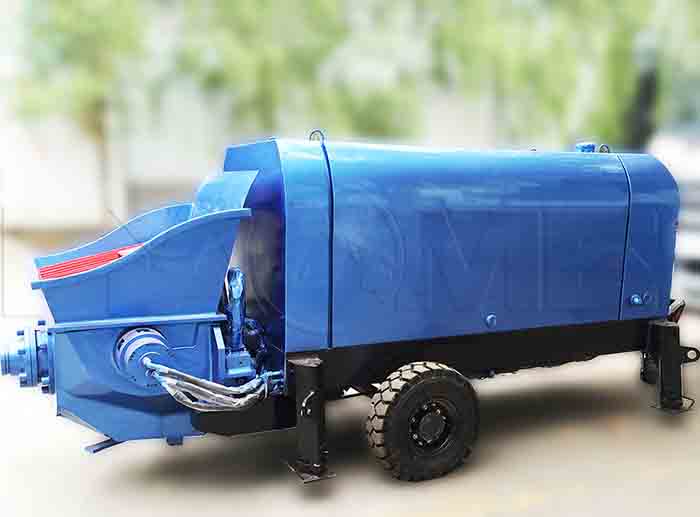 In terms of the reversing valves, there are rotary valves, gate valves and S valves. At present, gate valves and S valve are more commonly used. According to whether the pump can move, there are
portable concrete pump
, fixed concrete pump and trailer mounted concrete pump. The portable and trailer mounted concrete pumps are more popular.
The valves are important for the concrete pumps no matter which one they are. The main advantage of the S valve is that the swinging pipe port is flat, which is easy to adjust after wear. Its sealing performance is very good, so the S valve has a higher delivery height than the gate valve pump of the same specification.The design adopts the parabolic principle to make the material flow more reasonable and further reduce the resistance.
The main advantages of the gate valve concrete pump are simple structure, convenient maintenance, large reversing force, good suction performance, and the requirements for concrete are not as high as the S valve.
However, the sealing of the gate valve is limited by the structure, and the sealing pressure is low. In addition, when the gate valve is used for transportation, it is also required to install a horizontal transportation pipe section in front of the vertical transportation pipeline, the length of which is 1/2 of the concrete lifting height.
Because the gate valve is very sensitive to the reflux caused by the fluid pressure generated in the vertical direction of the concrete, it forms hydraulic resistance, and this resistance will reduce the conveying height of the concrete.
The gate valve and the S valve have their own advantages and disadvantages. When purchasing equipment,the customers can make choice according to their own actual conditions. Haomei Machinery usually choose S valve for our
trailer mounted concrete pump
.