Factory Price Concrete Mixer Machine with Pump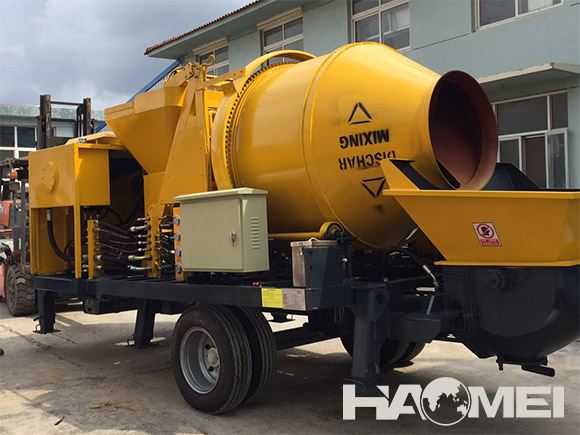 What is Concrete Mixer Machine with Pump
In the construction of large buildings, bridges and tunnels, concrete pumps are commonly used equipment. The concrete mixer machine with pump is specifically for small civil buildings. It is of high automation. It integrates feeding, mixing and high-pressure pumping, which can save a lot of labor costs.
It is most suitable for the houses and commercial buildings under 30 floors, small bridges, water conservancy, power and communication for which the sites are scattered and on-site mixing is required. The overall reliability of the equipment is higher than that of the old equipment. We have two kinds: eletric and diesel concrete mixer pump.
Main Advantages:
Hydraulic valves is Beijing Hade(chinese best brand),
Main pump is Kawasaki brand.
Sealing is American Parker brand.
Hydraulic Hose is Italy Manual.
Electric elements are from France Schnider brand.
PLC Japanese OMRON brand,
The mixer drum is made by Q345B strengthened plate (6mm thickness) and pipe is by high wear-resistant steel.
Main Features:
It combines mixer and pump together, which is easy and flexible to move and of high mobility.
It can be done by only one operator to control complete mixing and pumping, saving labors.
The machine has two functions. Mixer and pump can work independently and also can join each other quickly without dismounting the machine.
As long as the amount of the stone of which the size is over 40mm is not more than 20% of the total amount, this machine is workable after screening.
Pull rail connection between mixer and the pump makes it easy to replace the piston.
The frame of the machine is designed to be telescopic, which can be adapted to narrow roads and streets.
It adopting double open circuit hydraulic system, making the whole hydraulic system much simpler.
Relay integrated electric control system is reliable and ensures the discharging efficiency
With independent cooling system, its cooling efficiency is high.
It also has automatic lubrication system, saving fuel and reliable.
The drum friction wheel is driven synchronously by double bevel gear shaft, which is reliable and non skid.
Specification of JBS40-10-82R Diesel Concrete Mixer Pump
Item
JB40R
Units
Parameters
Whole performance of machine
Pump Max. theo. concrete output
m3/h
40
Charging (hopper )capacity of mixer
m3
0.56
Discharging capacity of mixer
m3
0.35
Max.concrete pumping pressure
MPa
10
Distribution valve type
S Valve
Concrete cylinder diameter stroke
mm
Ф160×1000
Hopper capacity
L
400
Outlet diameter
mm
Ф125
Power system
Diesel engine model
--
DEUTZ
Electrical engineering power
kW
82
Rotate speed
r/min
2300
Hydraulic system
Circuit type
Open circuit
Pumping system pressure
MPa
31.5
Mixing system pressure
MPa
6
The biggest transportation is away from vertically (/horizontal)
m
150/600
Other parameters
Mixer capacity
M3/h
10-14m3/h
Max. aggregate diameter
mm
40
Inside diameter of delivering pipe
mm
Ф125
Dimensions:length×width×height
mm
6000x2300x3150
Total weight
kg
5800kg
Tire
Pcs
4
How to choose a Trailer Pump for Sale
The selection of concrete mixer pump should also be comprehensively considered according to specific conditions such as concrete engineering objects, characteristics, and maximum conveying distance.
The performance of the mixing pump varies with different models. Generally, the main performance parameters of the concrete pump selected should be consistent with the construction needs. If the capacity is too large, the utilization rate will be low; if it is too small, it will not only fail to meet the construction requirements, but will also accelerate the loss of the concrete mixing pump.
There are also other types of concrete pump such as trailer line pump, truck-mounted concrete pump and concrete boom pump ruck. Welcome to contact us directly for the professional suggestions.