How to Debug the Diesel Concrete Mixer Pump
Now the
diesel concrete mixer pump
has been widely used in major construction units like foundations, grouting piles, house building,etc., realizing mixing and pumping synchronously. How to debug it? There are some basic conditions.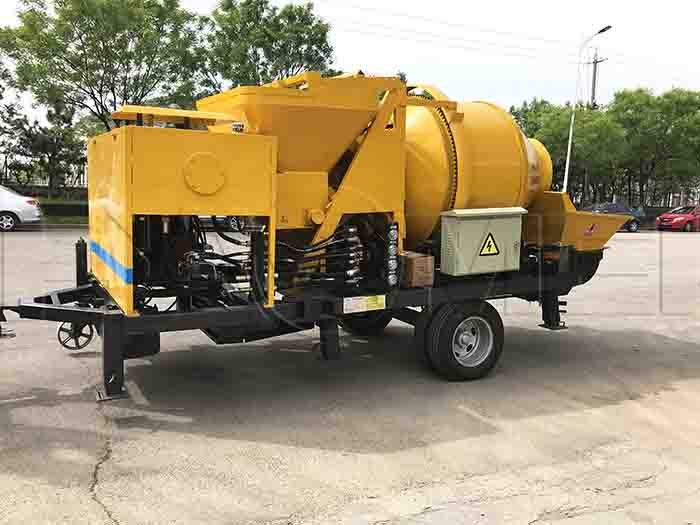 1. All parts and accessories should be fully equipped according to the standard.
2. Prepare hydraulic oil and lubricating grease, and the quality of the hydraulic oil should meet the requirements.
3. Fill hydraulic oil, fuel oil, lubricating oil and cooling water as required, and the hydraulic oil should be added to the specified oil level.
4. Inspect, debug and test run the mixing trailer pump to ensure its normal operation.
5. The experimental concrete should meet the standard.
6. The equipment should be placed on a flat and solid ground.
After debugging, we also need to pay attention to the daily operation of trailer pump for sale:
1. Fix the trailer pump for sale and all the conveying pipelines on the trailer before transfer.
2. When starting to move the mixing pump, do not turn on any equipment control keys.
3. When reaching the construction site, first move the mixing pump from the trailer to a flat solid ground, and open the outriggers of the mixing pump.
4. When connecting the conveying pipelines, take it from far to near, fasten each pipe clamp, and pour from the far place first.
5. Prepare concrete materials, sand and gravel, cement, water, and workers. 6. When the preparations are ready, first pump a tube of mortar to confirm that the equipment and pipelines are not blocked.
6. Maintain continuous and stable pumping during the working process, and the stone material does not exceed 4 cm. 8. After pouring is completed, first pump a tube of mortar, and then pump clean water to empty the remaining concrete in the equipment and pipeline.
7. Carry out maintenance.