The Technical Parameters of Mini Concrete Pump Truck
The
mini concrete pump truck
is a large-scale engineering truck with a wide range of applications, flexible walking and high construction efficiency. It is widely used in large-scale civil engineering, bridge construction, and public civil housing fields. When you buy it, please pay attention to the fallowing parameters.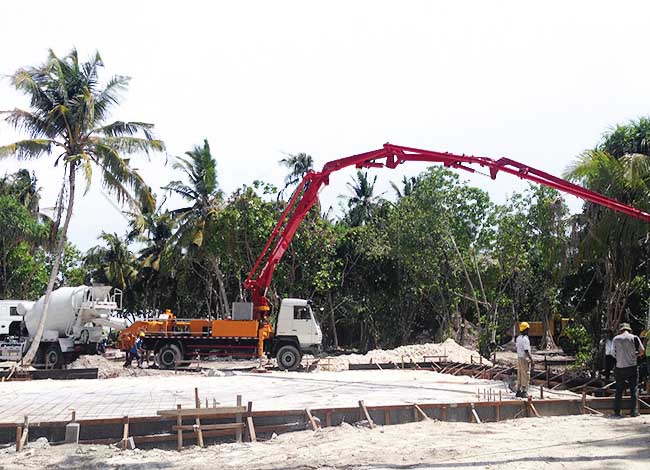 Theoretical pumping height of the booms
It refers to the distance from the center of the concrete conveying pipe outlet at the end of the boom to the stop surface when the booms are fully expanded or in a line. It is only a theoretical value, and it is only used as a comparison parameter for the length of the pump truck boom.
When concrete is poured, the booms must be bent to reach the pouring work surface. The actual operating range is the area surrounded by the working curve of the pump truck's booms.
Theoretical pumping volume
Under the condition that the pumpable concrete has the best slump, the pumping system reaches 100% suction rate, and the pump is in the low-pressure pumping state, the concrete boom pump can reach this theoretical pumping volume.
However, it is impossible to have the above conditions in actual construction. The actual pumping volume of the pump truck is inversely proportional to the pumping concrete pressure, which is affected by many factors.
Chassis
The chassis is the source of power for the concrete pump long boom. The chassis has different models and qualities according to the length of the concrete pump truck boom. According to your specific requirements, we can adjust each part to reach an ideal state for you.
For pump trucks above 37m and 43m, both the instrument display and the control signal are processed by the computer. If the chassis fails, it will automatically alarm. In addition, the chassis speed control signal is directly transmitted to the computer through the corresponding input module during the pumping process.
Maximum pumping distance and depth
They are the extreme positions that the concrete pump truck can reach when actually pouring concrete. If there is a certain height and the distance between the pouring point and the center of the pump truck is greater than the length of the first section of the booms when distributing downwards, the pumping radius and depth should be determined according to the working range curve provided by the
concrete pump remote control for sale
.