Analysis of Common Failures of Trailer Line Pump
Long-term use of the trailer line pump will inevitably cause some problems. There are some tips for you to deal with it cleverly.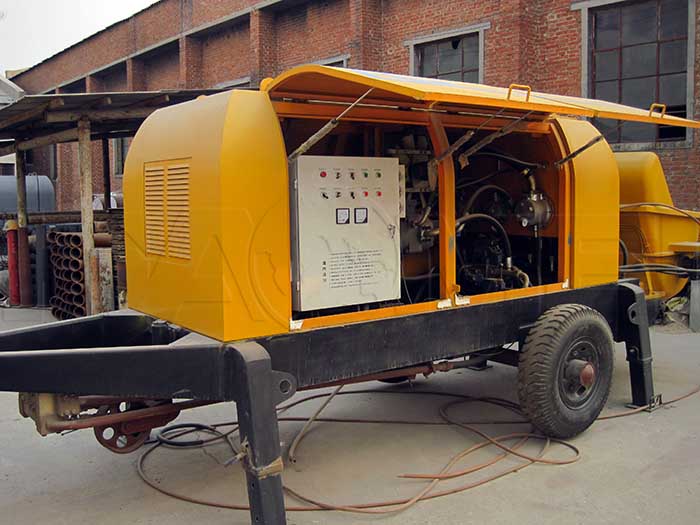 NO.1 The engine speed of the trailer pump drops.
The cause of such failure is easy to find. First, test the output power of the engine itself. If the output power of the engine is lower than the rated power, it may be due to poor fuel quality, low fuel pressure, faulty brakes and their control levers, and carbon deposits on the turbocharger.
If the output power of the trailer pump engine is normal, it is necessary to check whether the flow rate of the hydraulic pump match the output power of the engine. Such failures should start with the electrical system, then check the hydraulic system, and finally check the mechanical transmission system.
NO.2 The slower working speed of the trailer line pump
It is mainly due to the deterioration of the engine power and the internal leakage of the hydraulic system due to the wear of various parts of the whole machine. The internal hydraulic components of the pump (cylinder, plunger, nine-hole plate, etc.) will inevitably produce excessive wear, which will cause internal leakage, and the data of each parameter is not coordinated, resulting in insufficient flow, high oil temperature and slow working speed. At this time, the whole machine needs to be overhauled.
NO.3 The slump range of concrete
The slump is determined according to the tamping method. In addition to considering the ramming of pumped concrete, if the slump is too large, the concrete mixture is likely to segregate and cause pipe blockage of concrete pump trailer. The slump range of pumped concrete should generally be controlled at (8-23) cm, and for long distance or super height pumping, it is generally controlled at about 18 cm.
NO.4 The mix ratio of concrete must be strict.
Generally, it is required to complete the pumping within 90 minutes after mixing. In order to ensure the smooth progress of the concrete pumping, the transportation process should ensure that the concrete does not segregate. If a concrete mixer truck is used, the transportation capacity should be greater than the pumping capacity to ensure uninterrupted pumping.