Why do concrete pump truck supporting legs fail to move
  Trouble phenomenon:
  Example: For a SY5310-37m small displacement concrete pump truck, none of the boom legs can move during the proximity control and remote control, and the pumping is normal.
  Failure analysis:
  1. Boom valve solenoid, bypass valve solenoid failure
  2. The expansion module Q2.7 is damaged
  3. The chip relay KA30 burns out
  4. Boom valve, bypass valve issuance
  5. Multi-way valve three-way flow valve is stuck or damaged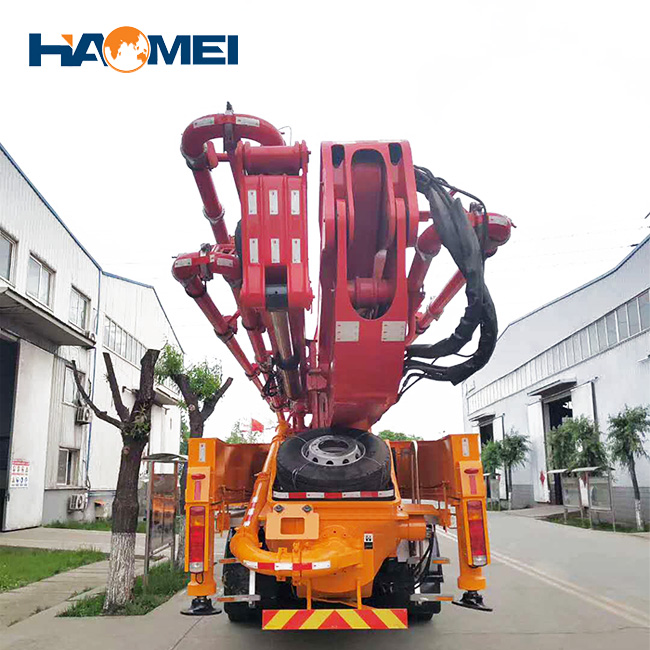 Elimination process:
  1. Use a multimeter to test whether the output voltage of Q2.7 is normal. If it is around 25V, it is normal. If not, the module is damaged.
  2. Check whether the bypass valve solenoid and boom valve solenoid are all energized. It is found that the KA30 chip relay 68# line has no power. It can be used normally after the KA30 relay 68# line is shorted to Q2.7. Replace the KA30 relay After normal. If it is energized, check whether the bypass valve solenoid and armrest valve solenoid coil resistance is normal, if not normal, replace it; if it is normal, disassemble the valve core to see if there is any card issue.
  3. The above is normal, check whether the multi-way valve three-way flow valve is stuck or damaged. If the card is issued, clean up, and replace if damaged.
  l This boom pump truck was finally overhauled. The fault was that the KA30 relay was damaged, and the equipment was normal after replacement.
  Summary: The intermediate relay of the concrete pump truck uses a chip relay, and the bypass valve and boom valve are all controlled by KA30. For some new boom pump truck bypass valves, the boom valves are controlled separately through two relays, which should be distinguished and paid attention to during troubleshooting.
  If you cannot solve the problem by methods above, you are advised to contact concrete pump truck companies for help!